EnviroMaster
Collect data both manually and automatically
Get a clear overview of your organization's carbon footprint
Make smarter and more sustainable business decisions
Generate sustainability reports in accordance with recognized standards
The punch line
Sustainability management requires that you collect, store and process huge amounts of data. This used to be done with time-consuming and costly manual labour often using spreadsheets. 

– until we made it easy...
Klappir EnviroMaster is a cloud based SaaS solution designed for organizations that want an improved approach to sustainability management, accounting and reporting. EnviroMaster gives you a clear overview of your carbon footprint, encourages successful resource management and offers a simple way of creating sustainability reports.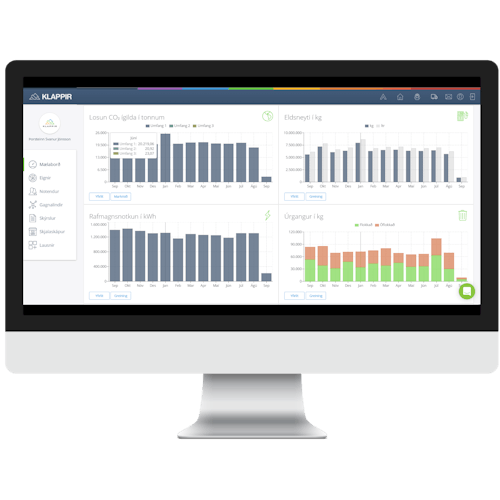 MAP
Collect all data in one place
Collect data automatically in real-time through API's from service providers or smart meters. Or bulk upload historical data with accessible CSV templates.

Klappir EnviroMaster supports most data types, including electricity, water, gas and fuel consumption, waste generation, transport and more.

Account for carbon emissions
Account for both direct (scope 1) and indirect (scope 2 & 3) emissions in accordance with the Greenhouse Gas Protocol. Our emission factor database  is being constantly updated to ensure that calculations are as accurate as possible.
OPTIMIZE
Create digital asset twins
Create a digital twin of your assets, including entities, buildings, vehicles, and machinery. Assign consumption data to assets or asset groups and start monitoring and comparing. 

Analyze your impact
Use powerful analytical tools to analyze consumption and spot opportunities to reduce wasteful practices. Switch between a visual, detailed and transaction based view.

Measure performance
Import operational data, set goals and make use of KPI's to measure performance.
ENGAGE
Generate sustainability reports 
Once your data has been imported into EnviroMaster you can easily create sustainability reports with our inbuilt generator. Make use of customizable templates that have been designed in accordance with recognized standards such as GRI, UNGC, Nasdaq ESG and more. 

Share information efficiently
Create sub-systems for your operational units and efficiently stream information up and down your organizational structure.

Get transparent
Allow for transparency and share information on sustainability performance with employees and customers through our green screen solution.
Get started today
Whether you are a small business or a large enterprise, EnviroMaster offers you an improved way of doing sustainability management, accounting and reporting.  There is no reason to wait. Start revolutionizing your approach to sustainability today.
Get a 30-day free trial or schedule a demo with our customer success specialists.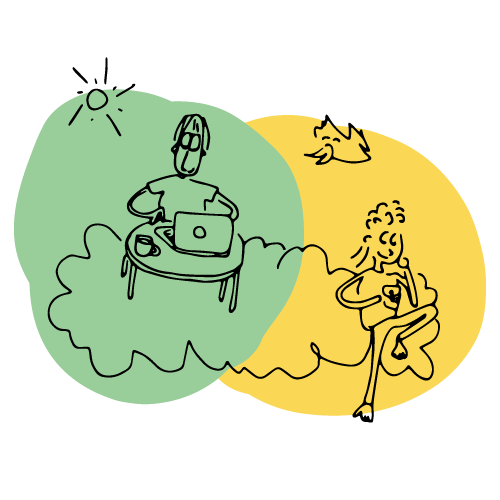 We have an excellent team of consultants should you need further assistance with sustainability matters, such as reporting or resource management. Learn more about what else we can do to help you.