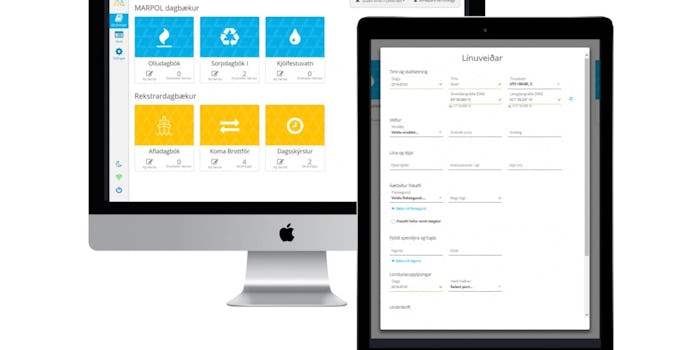 Klappir's New Digital Fish Catch Log Book
Presenting the new digital fish catch log book from Klappir! The electronic diary section of Klappir's SeaMaster cloud solution has been strengthened with a new catch log book that fishing vessels can use regardless of size or catch. The fish catch log book is an addition to Klappir's product range of carbon emissions accounting and maritime digital log books and records that have made a mark on the world through international distribution.
What to record in the fish catch log book?
The convenient and simple user interface of the catch log book gives the crew the opportunity to record all the necessary information:
Time and place of fishing,
Weather information,
Fish caught,
Type of fishing and fishing gear,
Scheduled landing and port of landing,
Fishing locations and time are obtained from GPS devices on board or through AIS systems,
Hunting of mammals and birds,
Attachments - option to attach photos.
Interface for the operator
The SeaMaster solution also includes an interface for shipowners. The interface streams all information from Klappir's electronic log books and offers a variety of analysis options. For example:
Overview of the number of vessels at sea, quantity and type of catch, catch per towing time, catch per fuel unit, departure and arrival time, endurance time, entry, search and world time as well as the sustainability factor of a fishing trip.
Vessel voyages (registration process) which gives a clear picture of fishing, ie. towing time, area, fuel consumption, speed (both on towing and sailing).
Fuel control that helps determine the most efficient speed of a ship.
Fuel control connected to both the ship's fuel gauge and the BunkerMaster Klappir. The fuel management ensures the reconciliation of fuel measurements when purchasing fuel (quantity and quality of fuel).
Summary of all registrations on board.
Summary of registration frequency on board.
Various tools for analyzing fishing efficiency.
Fishing summary report for a defined period.
Data communication between ship and land
Data communication with land is reliable and data from Klapp's catch diary and other diaries are received by the shipowner as soon as registration has been approved by the master. Please call 519-3800 if you would like to talk to us about the catch diary or check us out at booth 10 at Icelandic Sea Expo 25 - 27 September.
We will be at the Iceland Fish Expo 2019 exhibition 25 - 27 September
Are you curious about the solution and would like to hear more? Check us out in booth 10 at the exhibition Fisheries 2019. We look forward to chatting with you!